The Fast and the Furious: Tokyo Drift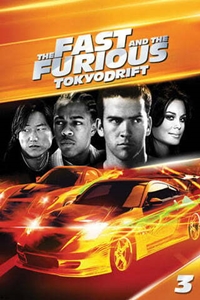 The Fast and the Furious: Tokyo Drift
Synopsis
To avoid jail time, self-styled street racer Sean Boswell goes to live with his estranged father, a career military-man stationed in Tokyo.
Searching for action in Tokyo, Sean discovers the world of drift racing--an exhilarating balance of speeding and gliding through a heart-stopping course of hairpin turns and switchbacks. On his first time out drifting, Sean loses to D.K., the "Drift King," a local champ with ties to the Japanese crime machine. Sean must work off his debt under the thumb of ex-pat Han, who introduces him to the real principles of drifting. But, when Sean falls for D.K.'s girlfriend, Neela, an explosive series of events is set into motion.
Free screenings of previous FAST films! Reserve your free ticket by stopping in at the Portage Theatres during business hours.
Details
Action/Adventure
1h. 30min.
Opens Friday, May 14th

Director
Justin Lin
Cast
Lucas Black, Lil' Bow Wow, Brian Tee, Sung Kang, Jason Tobin
Advisory
Rated PG-13 for reckless and illegal behavior involving teens, violence, language and sexual content
Showtimes
Filter:
2D
3D
IMAX
IMAX 3D
35mm
70mm
HFR
Virtual