The Exorcist: Believer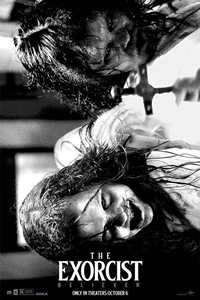 The Exorcist: Believer
Synopsis
Since the death of his wife, Victor Fielding has raised their daughter, Angela on his own. But when Angela and a friend disappear in the woods, only to return three days later with no memory of what happened to them, it unleashes a chain of events that will force Victor to confront the nadir of evil.
Details
Horror
1h. 51min.
Opens Friday, October 13th

Director
David Gordon Green
Cast
Ellen Burstyn, Leslie Odom Jr., Ann Dowd, Jennifer Nettles, Olivia Marcum
Advisory
Rated R for some violent content, disturbing images, language and sexual references.
Showtimes
Filter:
2D
3D
IMAX
IMAX 3D
35mm
70mm
HFR
Virtual