The Holdovers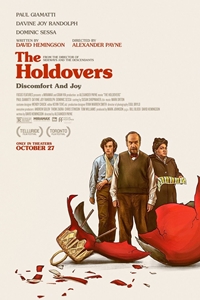 The Holdovers
Synopsis
THE HOLDOVERS follows a curmudgeonly instructor (Paul Giamatti) at an elite New England prep school who is forced to remain on campus during Christmas break to babysit the handful of students with nowhere to go. Eventually he forms an unlikely bond with one of them as well as the school's head cook.
Details
Comedy
2h. 13min.
Opened Wednesday, November 22nd

Director
Alexander Payne
Cast
Paul Giamatti, Da'Vine Joy Randolph, Dominic Sessa, Carrie Preston, Brady Hepner
Advisory
Rated R for language, some drug use and brief sexual material.
Showtimes
Filter:
2D
3D
IMAX
IMAX 3D
35mm
70mm
HFR
Virtual