My Big Fat Greek Wedding 3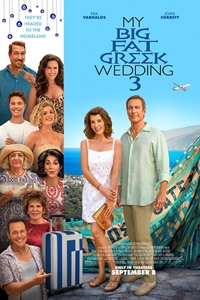 My Big Fat Greek Wedding 3
Synopsis
Join the Portokalos family as they travel to a family reunion in Greece for a heartwarming and hilarious trip full of love, twists and turns.
Details
Comedy, Drama, Romance
1h. 31min.
Opened Friday, September 8th

Director
Nia Vardalos
Cast
Nia Vardalos, John Corbett, Louis Mandylor, Elena Kampouris, Maria Vacratsis
Advisory
Rated PG-13 for some suggestive material and some nudity.
Showtimes
Filter:
2D
3D
IMAX
IMAX 3D
35mm
70mm
HFR
Virtual