Puss in Boots: The Last Wish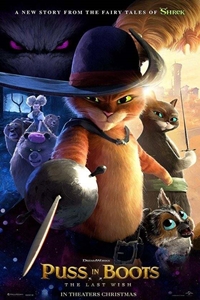 Puss in Boots: The Last Wish
Synopsis
Puss in Boots discovers that his passion for peril and disregard for safety have taken their toll. Puss has burned through eight of his nine lives, though he lost count along the way. Getting those lives back will send Puss in Boots on his grandest quest yet.
Summer 50-cent movies! Tuesday through Thursdays. Shows at 10:00 am.
Details
Animation
1h. 40min.
Opens Tuesday, June 27th

Director
Joel Crawford
Cast
Antonio Banderas, Salma Hayek, Harvey Guillén, Florence Pugh, John Mulaney
Advisory
Rated PG for action/violence, rude humor/language,and some scary moments.
Showtimes
Filter:
2D
3D
IMAX
IMAX 3D
35mm
70mm
HFR
Virtual