About My Father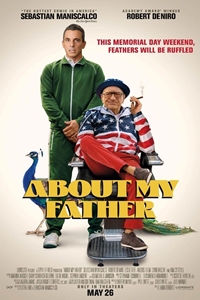 About My Father
Synopsis
ABOUT MY FATHER centers around Sebastian, who is encouraged by his fiancée to bring his immigrant, hairdresser father, Salvo, to a weekend get-together with her super-rich and exceedingly eccentric family.
Details
Comedy
1h. 29min.
Opened Friday, May 26th

Director
Laura Terruso
Cast
Sebastian Maniscalco, Robert De Niro, Leslie Bibb, Anders Holm, David Rasche
Advisory
Rated PG-13 for suggestive material, language and partial nudity.
Showtimes
Filter:
2D
3D
IMAX
IMAX 3D
35mm
70mm
HFR
Virtual