Indiana Jones and the Dial of Destiny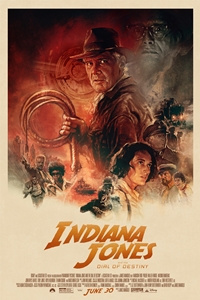 Indiana Jones and the Dial of Destiny
Synopsis
Harrison Ford returns as the legendary hero archaeologist in the highly anticipated fifth installment of the iconic "Indiana Jones" franchise, which is directed by James Mangold ("Ford v Ferrari," "Logan").
Details
Action/Adventure
2h. 34min.
Opens Friday, June 30th

Director
James Mangold
Cast
Harrison Ford, Phoebe Waller-Bridge, Mads Mikkelsen, Thomas Kretschmann, Boyd Holbrook
Advisory
Rated PG-13 for sequences of violence and action, language and smoking.
Showtimes
Filter:
2D
3D
IMAX
IMAX 3D
35mm
70mm
HFR
Virtual