Evil Dead Rise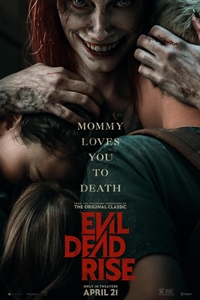 Evil Dead Rise
Synopsis
"Evil Dead Rise" tells a twisted tale of two estranged sisters whose reunion is cut short by the rise of flesh-possessing demons thrusting them into a primal battle for survival as they face the most nightmarish version of family imaginable.
Details
Horror
1h. 36min.
Opens Friday, April 21st

Director
Lee Cronin
Cast
Alyssa Sutherland, Lily Sullivan, Gabrielle Echols, Neil Fisher
Advisory
Rated R for strong bloody horror violence and gore, and some language.
Showtimes
Filter:
2D
3D
IMAX
IMAX 3D
35mm
70mm
HFR
Virtual