Gran Turismo: Based On a True Story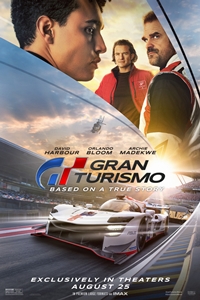 Gran Turismo: Based On a True Story
Synopsis
Gran Turismo is based on the unbelievable true story of a team of unlikely underdogs - a struggling working-class gamer, a failed former racecar driver, and an idealistic motorsport executive. Together, they risk it all to take on the most elite sport in the world.
Details
Action/Adventure
2h. 15min.
Opened Friday, August 25th

Director
Neill Blomkamp
Cast
David Harbour, Orlando Bloom, Archie Madekwe, Geri Halliwell Horner, Djimon Hounsou
Advisory
Rated PG-13 for intense action and some strong language.
Showtimes
Filter:
2D
3D
IMAX
IMAX 3D
35mm
70mm
HFR
Virtual