The Equalizer 3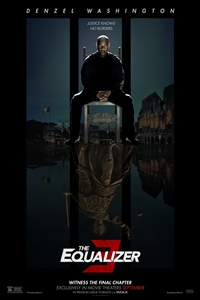 The Equalizer 3
Synopsis
Since giving up his life as a government assassin, Robert McCall has struggled to reconcile the horrific things he's done in the past and finds a strange solace in serving justice on behalf of the oppressed.
Details
Action/Adventure, Suspense/Thriller
1h. 49min.
Opened Friday, September 1st

Director
Antoine Fuqua
Cast
Denzel Washington, Dakota Fanning, David Denman
Advisory
Rated R for strong bloody violence and some language.
Showtimes
Filter:
2D
3D
IMAX
IMAX 3D
35mm
70mm
HFR
Virtual