Mummies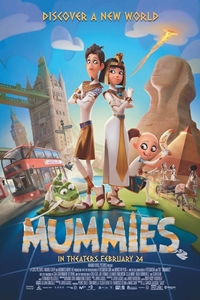 Mummies
Synopsis
"Mummies" follows the fun adventures of three Egyptian mummies who live in an underground secret city, hidden in ancient Egypt.Through a series of unfortunate events, the mummies end up in present-day London and embark on a wacky and hilarious journey.
Summer 50-cent movies! Tuesday through Thursdays. Shows at 10:00 am.
Details
Animation, Comedy, Family
1h. 28min.
Opens Tuesday, August 1st

Director
Juan Jesús García Galocha
Cast
Sean Bean, Hugh Bonneville, Santiago Winder, Celia Imrie, Eleanor Tomlinson
Advisory
Rated PG for mild action/violence and some rude material.
Showtimes
Filter:
2D
3D
IMAX
IMAX 3D
35mm
70mm
HFR
Virtual