Together Together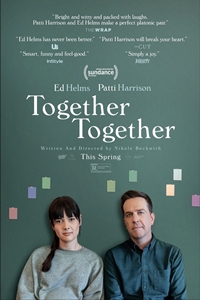 Together Together
Synopsis
When young loner Anna is hired as the gestational surrogate for Matt, a single man in his 40s, the two strangers come to realize this unexpected relationship will quickly challenge their perceptions of connection, boundaries and love.
Details
Comedy
1h. 30min.
Opened Friday, April 23rd

Director
Nikole Beckwith
Cast
Ed Helms, Patti Harrison, Rosalind Chao, Anna Konkle
Advisory
Rated R for some sexual references.
Showtimes
Filter:
2D
3D
IMAX
IMAX 3D
35mm
70mm
HFR
Virtual