Scream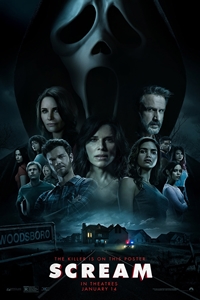 Scream
Synopsis
Twenty-five years after a streak of brutal murders shocked the quiet town of Woodsboro, a new killer has donned the Ghostface mask and begins targeting a group of teenagers to resurrect secrets from the town's deadly past.
Details
Horror
1h. 54min.
Opened Friday, January 14th

Director
Matt Bettinelli-Olpin, Tyler Gillet
Cast
Melissa Barrera, Kyle Gallner, Mason Gooding, Mikey Madison, Dylan Minnette
Advisory
Rated R for strong bloody violence, languagethroughout and some sexual references.
Showtimes
Filter:
2D
3D
IMAX
IMAX 3D
35mm
70mm
HFR
Virtual