Moonfall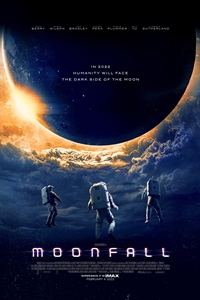 Moonfall
Synopsis
In Moonfall, a mysterious force knocks the Moon from its orbit around Earth and sends it hurtling on a collision course with life as we know it.
Details
Action/Adventure, SciFi/Fantasy
2h. 00min.
Opens Friday, February 4th

Director
Roland Emmerich
Cast
Halle Berry, Patrick Wilson, John Bradley, Michael Peña, Charlie Plummer
Advisory
Rated PG-13 for violence, disaster action, strong language, and some drug use.
Showtimes
Filter:
2D
3D
IMAX
IMAX 3D
35mm
70mm
HFR
Virtual