American Underdog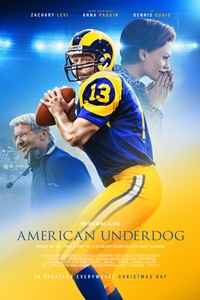 American Underdog
Synopsis
The drama chronicles the incredible true story of Kurt Warner, who went from stocking shelves at a supermarket to become a two time NFL MVP, Super Bowl MVP and Hall of Fame quarterback.
Details
Drama
1h. 52min.
Opened Saturday, December 25th

Director
Jon Erwin, Andrew Erwin
Cast
Zachary Levi, Anna Paquin, Dennis Quaid
Advisory
Rated PG for some language and thematic elements.
Showtimes
Filter:
2D
3D
IMAX
IMAX 3D
35mm
70mm
HFR
Virtual