jackass forever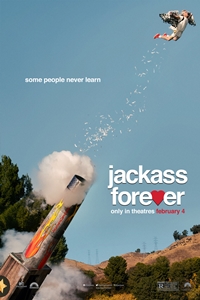 jackass forever
Synopsis
Celebrating the joy of being back together with your best friends and a perfectly executed shot to the dingdong, the original jackass crew return for another round of hilarious, wildly absurd, and often dangerous displays of comedy with a little help from some exciting new cast.
Details
Action/Adventure, Comedy
1h. 36min.
Opens Friday, February 4th

Director
Jeff Tremaine
Cast
Johnny Knoxville, Steve-O, Chris Pontius, Dave England, Wee Man
Advisory
Rated R for strong crude material and dangerous stunts, graphic nudity and language throughout.
Showtimes
Filter:
2D
3D
IMAX
IMAX 3D
35mm
70mm
HFR
Virtual