News of the World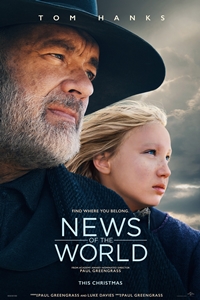 News of the World
Synopsis
Five years after the end of the Civil War, Captain Jefferson Kyle Kidd moves from town to town as a non-fiction storyteller, sharing the news of presidents and queens, glorious feuds, devastating catastrophes, and gripping adventures from the far reaches of the globe.
Details
Drama, Western
1h. 58min.
Opened Friday, December 25th

Director
Paul Greengrass
Cast
Tom Hanks, Helena Zengel
Advisory
Rated PG-13 for violence, disturbing images, thematic material and some language.
Showtimes
Filter:
2D
3D
IMAX
IMAX 3D
35mm
70mm
HFR
Virtual