The 355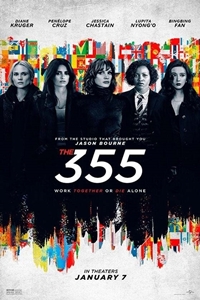 The 355
Synopsis
As the action rockets around the globe from the cafes of Paris to the markets of Morocco to the wealth and glamour of Shanghai, the quartet of women will forge a tenuous loyalty that could protect the world-or get them killed.
Details
Action/Adventure, Suspense/Thriller
2h. 02min.
Opened Friday, January 7th

Director
Simon Kinberg
Cast
Jessica Chastain, Lupita Nyong'o, Penelope Cruz, Diane Kruger, Fan Bingbing
Advisory
Rated PG-13 for sequences of strong violence, brief strong language, and suggestive material.
Showtimes
Filter:
2D
3D
IMAX
IMAX 3D
35mm
70mm
HFR
Virtual