Jesus Revolution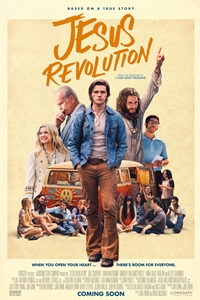 Jesus Revolution
Synopsis
The story of a young Greg Laurie being raised by his struggling mother, Charlene in the 1970s. Rock and roll, newfound love, and a twist of faith lead to a JESUS REVOLUTION that turns one counterculture movement into a revival that changes the world.
Details
Drama
2h. 00min.
Opened Friday, February 24th

Director
Jon Erwin, Brent McCorkle
Cast
Joel Courtney, Anna Grace Barlow, Kimberly Williams-Paisley, Jonathan Roumie, Kelsey Grammer
Advisory
Rated PG-13 for strong drug content involving teens and some thematic elements.
Showtimes
Filter:
2D
3D
IMAX
IMAX 3D
35mm
70mm
HFR
Virtual