Tom & Jerry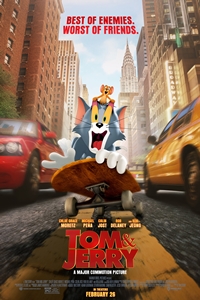 Tom & Jerry
Synopsis
One of the most beloved rivalries in history is reignited when Jerry moves into New York City's finest hotel on the eve of the wedding of the century, forcing the event's desperate planner to hire Tom to get rid of him.
Details
Animation, Comedy, Family
1h. 41min.
Opened Friday, February 26th

Director
Tim Story
Cast
Chloe Grace Moretz, Michael Pena, Colin Jost, Rob Delaney, Pallavi Sharda
Advisory
Rated PG for cartoon violence, rude humor and brief language.
Showtimes
Filter:
2D
3D
IMAX
IMAX 3D
35mm
70mm
HFR
Virtual