The Fate of the Furious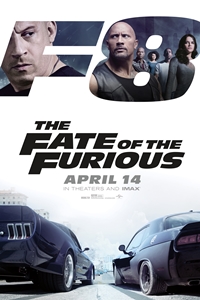 The Fate of the Furious
Synopsis
From the shores of Cuba and the streets of New York City to the icy plains off the arctic Barents Sea, our elite force will crisscross the globe to stop an anarchist from unleashing chaos on the world's stage... and to bring home the man who made them a family.
Free screenings of previous FAST films! Reserve your free ticket by stopping in at the Portage Theatres during business hours.
Details
Action/Adventure
2h. 16min.
Opens Friday, June 18th

Director
F. Gary Gray
Cast
Vin Diesel, Dwayne Johnson, Jason Statham, Michelle Rodriguez, Tyrese Gibson
Advisory
Rated PG-13 for prolonged sequences of violence and destruction, suggestive content, and language.
Showtimes
Filter:
2D
3D
IMAX
IMAX 3D
35mm
70mm
HFR
Virtual