Bros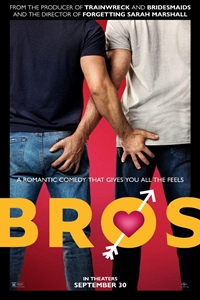 Bros
Synopsis
The first romantic comedy from a major studio about two gay men maybe, possibly, probably stumbling towards love. Maybe. They're both very busy. A smart, swoony and heartfelt comedy about finding sex, love and romance amidst the madness.
Details
Romance, Comedy
1h. 55min.
Opened Friday, September 30th

Director
Nicholas Stoller
Cast
Billy Eichner, Luke Macfarlane, Ts Madison, Monica Raymund, Guillermo Díaz
Advisory
Rated R for strong sexual content, language throughout and some drug use.
Showtimes
Filter:
2D
3D
IMAX
IMAX 3D
35mm
70mm
HFR
Virtual